Advanced Performance UniBloc Balances
The new AP-AD series models not only offer excellent basic performance, such as fast weighing times of about two seconds and high measurement stability that minimizes errors, but also include new functionality that improves convenience, such as automatic doors and touchless sensors.
New automatic door functionality makes weighing operations even more convenient.
Smart Automatic Door™ Improve Work Efficiency
Only for W-AD series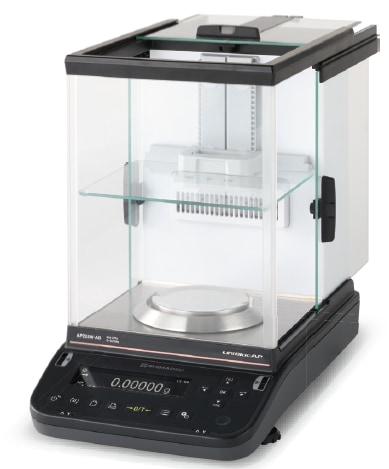 The AP series features automatic doors.
That means operators can continue working without setting down samples or spatulas, which can help shorten overall measurement times.
Doors Opened/Closed Smoothly and Quickly
Door opening/closing time is about one second.
The quick and smooth door action enables stress-free operation.
Adjustable Opening/Closing Distance Using Automatic Learning Functionality
The automatic doors include automatic learning functionality that enables freely setting how far to open/close each glass door.
That minimizes external air effects and increases operational efficiency.
Doors can be opened/closed by three methods, depending on preference.
Open/close by waving a hand over the left and right infrared sensors
That enables door operation without touching the balance.
Open/close by pressing the left and right buttons on the front
That allows opening/closing doors with a satisfying click sensation.
Open/close using the manual trigger function
The glass doors open/close automatically after the doors are moved about 10 mm. That enables intuitive door operation.
More Extensive Commands for Production Line Applications
Computer-Controlled Door Open/Close Operation
This is ideal for managing very small measurement quantities, such as for controlling coating quantities applied on a production line.
More Commands Compatible with Non-Shimadzu Brands
The list of commands that support opening/closing doors, acquiring weighing data, or other actions on non-Shimadzu products was expanded. That means existing programs can be used more effectively.
Suppresses the Effect of Convections
A patent-pending structure around the weighing pan (shield case and stage) and adjustable windbreak plate are included as standard features.* These features reduce the effects of convective currents inside the weighing chamber, which can occur due to temperature variations caused by air conditioners, to ensure superior responsiveness and stability.
If weighing papers, microtubes, or other items are used for measuring, use the included multi-stand accessor
* Only available on W-AD series 0.01 mg models
Touchless Sensors Enable Hygienic Operation
The balance can be operated without touching the main unit.
That is especially helpful as infectious disease measures or when handling hazardous substances.
It enables non-contact weighing operations without touching any operating keys. With the multi-function mode setting specified, a total of four different functions can be executed depending on how long hands are held over the left and right touchless sensors. That is perfect for ensuring safety by not contacting the unit when handling toxic substances and enables the balance to be operated smoothly
while wearing gloves.
Adjustable Internal Windbreak Plate Improves Stability and Response
The windbreak suppresses factors that can cause measurement error, so that stable weighing can be performed by anyone.
Convection and air flow effects can be suppressed by minimizing the weighing chamber volume. New W-AD series 0.01 mg models are equipped standard with an adjustable windbreak plate inside the main unit. It can be raised or lowered according to the various containers or samples involved to provide the optimal weighing environment.
Equipped Standard with a STABLO™-AP Ionizer
Included Standard for W-AD, Optional for W/X/Y series
This ionizer eliminates the influence of static electricity to achieve reliable measurements without requiring tedious steps.
The STABLO-AP ionizer can reduce static electricity on samples, containers, and other surfaces.
Static electricity can be eliminated quickly and easily by pressing just one button to increase reproducibility and operational efficiency.
The ionizer uses the AC method to provide super ior long- term stability without worry of reverse charging.
That ensures higher measurement reliability than ever before.
The adjustable windbreak plate* and STABLO-AP ionizer are great for weighing samples in the following situations!
High Speed – Fast weighing response
High Speed
Fast measurement significantly improves operational efficiency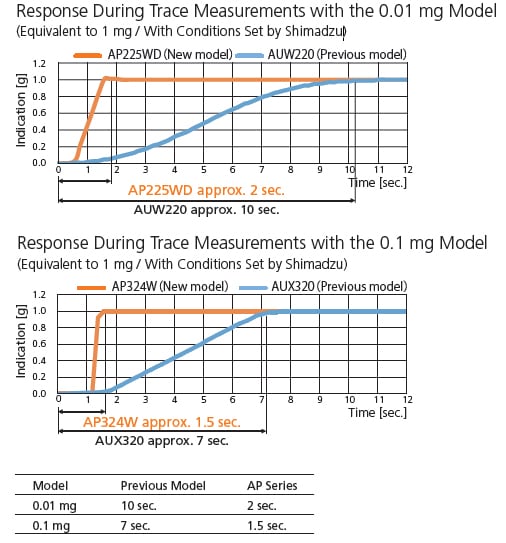 Shimadzu analytical balances boast the one-piece UniBloc weighing sensor, which is now even more advanced.
The response time is reduced to about 1/5 the time of previous models.
In addition, the UniBloc sensor offers a response time of just 2 seconds, an improvement from 10 seconds with the previous model.
Stress Free – A variety of accessories and options suitable for semi-micro measurements
Highly Sophisticated Simulation Technology
Increased weighing capacity from 135 mg to 220 g (0.01 mg model)
Micro amount weighing over 135 mg (read 0.01 mg step) is possible.
Improved Sensitivity Stability When Ambient Temperature Changes (AP225W-AD/AP225WD)
The temperature of the operational environment is affected by the external air temperature, turning off the air-conditioning, people entering the room, etc.
The stability with respect to these small temperature variations in the operational environment has been improved.
When the ambient temperature has changed by +1 °C in 20 minutes, the AP225W provides an improvement in the stability of the sensitivity by a factor of four compared to the previous model.
Improved Minimum Weight (Minimum display 0.01 mg AP225W-AD/135W-AD/225WD-AD/125WD-AD/225W/135W/225WD/125WD only)
By improving stability technologies, the minimum weight required for meeting USP Chapter 41 requirements has been improved from 30 mg to 20 mg.
* In a factory test in our company
Operational Efficiency and Measurement Reliability Improvements Due to AP Holder™
The AP Holder (standard accessory for AP225W-AD and AP225W) enables smoothly weighing samples directly in volumetric flasks or other such containers. Eliminating the work involved in transferring samples to weighing paper not only improves the efficiency of weighing operations, but also prevents contamination during that transfer process.
→ The AP Holder in combination with the ionizer* can eliminate the influence of static electricity on the weight value.
* The ionizer is an optional product.
Easy-to-Use Multi Stand
(0.01 mg model only, equipped as standard)
Wi th weighing paper, for example, if the tare is larger than the pan diameter, measurements can be simplified by attaching the special multi stand.
Improves the Stability and Response of Measurement Values
The internal windbreak plate suppresses the influence of convection and air flow within the weighing chamber, improving the stability and response of measurement values.
Save Your Operation
USB Offers Greater Expandability (USB host: AP-W-AD and AP-W Series only)
Equipped with an RS-232C connector, a USB device and a USB host as standard. You can now simultaneously send output to both a computer and printer or connect a USB flash drive, a barcode reader, or an external numeric keypad.
Transcription errors can be avoided and data can be recorded without a computer.
USB flash drive
Connecting a USB memory device allows you to record large amounts of weighing data in CSV format. Used in combination with the interval output function, it also enables recording of long-term changes over time.
Example of a record:
File name
Date and time
Weighing value
*The information saved will differ depending on the function used.
Display capture function
Weighing display can be recorded into USB memory in BMP format. User name, date/time, and setting can be shown with display information. The user name, time, measurement conditions, pass/fail judgments, and other information displayed on screen can be saved as is, enabling the recording of measurements, and checks after measurements.
Numeric keypad
Connecting a common external numeric keypad makes it easier to enter numeric values. This is especially useful for entering the mass value of weights, setting upper/lower limit values for the comparator function, or entering the sample count during piece counting mode.
Barcode reader
A barcode reader can be connected. Simply reading a barcode makes it possible to input user ID/Password. It is possible to manage sample IDs using barcodes.
An ID and password are needed to log in to the AP series if protected access is activated. With the barcode, an operator can log in by scanning the barcode instead of inputting an ID and password.
Easy-to-Read Organic EL Display
Because the pixel elements in the organic electroluminescence display emit light, the screen can be seen clearly even in dark locations.
Multi-language display capability*2 provides a more intuitive operating interface. A wider viewing angle has also improved the visibility of measurement values, which helps increase the efficiency of measuring operations.
*2 Japanese, English and Chinese
And more
Smart Settings
Response and stability settings can be changed during measurements with a single touch. Changing the settings for different applications can make it even easier to use.
The indicator is operated using the left and right arrow keys. Moving the setting toward [R] prioritizes response, which makes it easier to operate the balance. Conversely, moving it toward [S] makes it easier to stabilize weight values, which can improve readability in environments with vibration.
For Better Weighing Results: PSC and Clock-CAL
A Perfect Self Calibration (PSC) function is included. The analytical balance automatically detects any temperature changes that could affect sensitivity and automatically starts calibration.
The Clock-CAL function enables automatic calibration at a pre-specified time (for example, before starting work, during lunch, or after work hours).
Specific Gravity Measurement
In combination with an optional specific gravity measurement kit, the balance can be used to measure specific gravity. Operations are simplified by a text-based navigation function. By using sinkers, the specific gravity of liquid can be measured as well. This allows measuring the specific gravity of metals, rubbers, plastics, and other materials easily.

Periodic Inspection Support Function
W-AD/W/X Series only
AP series suppor ts periodic inspections. The function allows inspection of repeatability, corner load error, and linearity by simply following instructions displayed on the screen.